Boxed Cactus kits in stoneware and terra cotta pots planted at our cactus nursery in Apache Junction, Arizona. Great for gifts or a touch of southwest decor for your home.
Boxed Cactus Kits : Click the RED LINK BELOW the Picture in the item descriptions text to order and view a single item.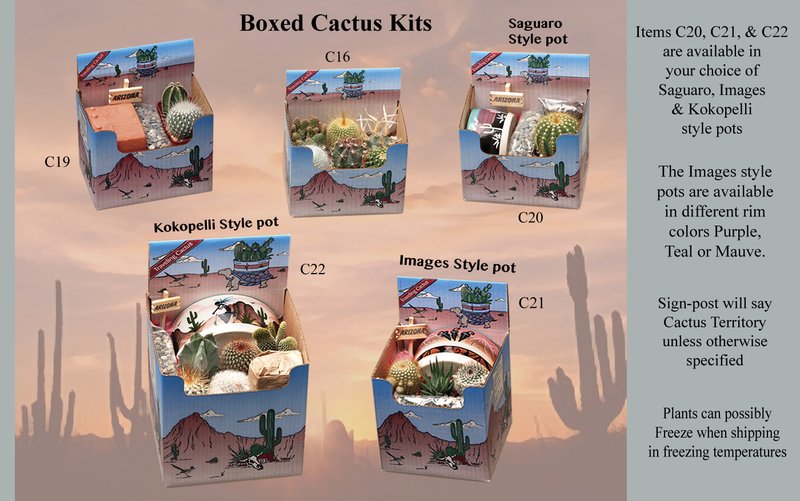 Click the RED LINKS below to order and view single items. Read farther below for About Cactus Gardens
Price Item Description Size Price Item Description Size
$13.00 C20 3" Cactus Kit about 6 ½ x 4 ½ x 7 $12.00 C16 Cactus Only Kit about 6 ½ x 4 ½ x 7
$16.50 C21 4" Cactus Kit about 6 x 6 ½ x 9 ½ $13.00 C19 Adobe Cactus Kit about 6 ½ x 4 ½ x 7
$23.00 C22 6" Cactus Kit about 8 x 8 ½ x 12 ½

About Boxed Cactus Kits

The Boxed Cactus Kits are a fun gift or project packaged with a southwest design box. Each cactus in the kits comes in a plastic pot the cactus has been growing in. We have worked with cactus since 1984 at our cactus nursery in Arizona USA. We hand pick a variety of cactus plants and assemble them into a boxed cactus kit. There is some extra soil, decorative rock, and a sign-post in each kit. Some additional soil may be desired. We have designed and offer 3 styles of Cactus Dish pots for the kit. Saguaro with Mountains, Kokopelli with Pueblo buildings, and our Images design which contains chilis, gecko, cactus and hummingbird all on one pot. These cactus dishes are made of high quality Hi-Fire Stoneware pottery. We also offer one style of Terra Cotta clay pot to match your preference and decor. The cactus plants pictured are a sample of our assortment. The actual cactus in an item or garden purchased will always vary from what is pictured. Customer assumes responsibility and liability if requesting shipment during freezing conditions.
The Boxed Cactus Kits are generally able to be shipped within 3 to 5 business days
Cactus bloom flowers with the warmth of the sun between 70 and 90 degrees with sufficient water. (This is generally February to April for us.) No fertilizer is needed to make a cactus bloom, but if you feel the need be sure it is designed specifically for cactus. Prior to the flower most cactus will have what looks like little cotton balls in the crevasses of the plant. From this is where the flower will emerge.
If you place your garden outside it will dry out faster so increase the watering instructions as needed. We recommend following the guideline that a cactus garden should completely dry out within approximately 3 to 5 days after watering and remain dry for at least a few days up to a week or two depending on weather before watering again. Direct sunlight on a cactus that is not acclimated or on a cactus in temperatures approximately over 90 degrees can potentially burn the plant. We have offered the above recommendations that have proven to work well with our customers over many years, but understand that cactus are plants and there is no perfect guideline that encompasses every environment. Cactus are very slow growing and generally do not need transplanting for several years.
Sign-Post: The cactus gardens will come with a sign-post that says Cactus Territory unless otherwise specified. To choose a different sign post you can choose from a few options at checkout (Arizona, Grand Canyon, Sedona, or Las Vegas) for other options will need to call, or email us from the contact us page. Other sign options include Utah, Texas, Wyoming, Colorado, New Mexico, Oklahoma, or we can customize a sign-post (limited lettering) for large volume orders.