Raku Pottery Unique decorative pieces pottery. Great for Gifts or personal southwest decor. Hand Made in Apache Junction, Arizona
Raku Pottery: Click the RED LINK BELOW the Picture in the item descriptions text to order and view a single item.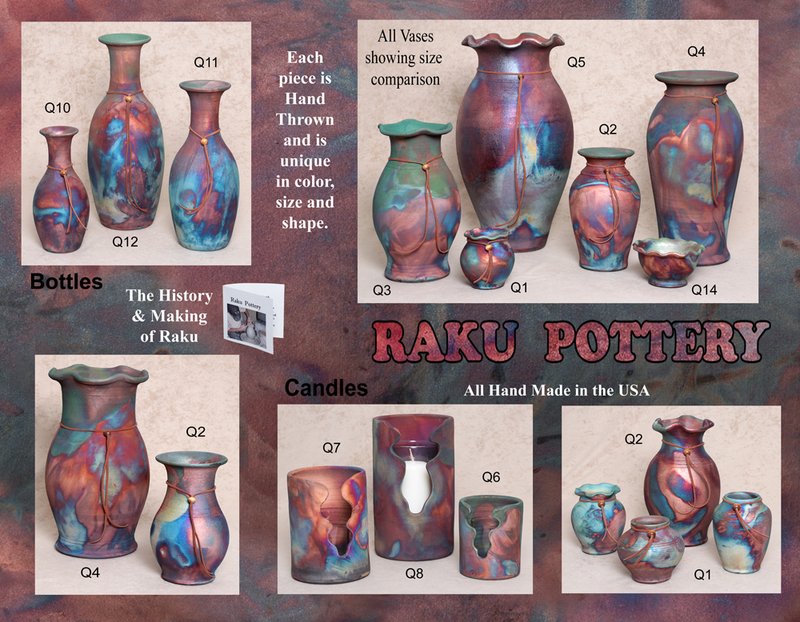 Click the RED LINKS below to order and view single items. Read farther below for About Raku Pottery
The sizes generally vary within 1/2 inch and it can be up to an inch proportionately. These items are measured by the amount of clay used to make the piece.
Price Item Description Size Price Item Description Size
$17.00 Q1 Mini Vase 3 ½ x 3 ½ x 4 ½ $30.00 Q6 Small Candle 4 x 4 x 5 ½
$17.00 Q14 Mini Bowl 6 ½ x 6 ½ x 2 $40.00 Q7 Medium Candle 4 ½ x 4 ½ x 7 ½
$36.00 Q2 Small Vase 5 ½ x 5 ½ x 9 ½ $57.00 Q8 Large Candle 5 ½ x 5 ½ x 10 ½
$48.00 Q3 MediumVase 7 x 7 x 12 $34.00 Q10 Small Bottle 4 ½ x 4 ½ x 9
$69.00 Q4 LargeVase 8 x 8 x 15 $48.00 Q11 Medium Bottle 5 ½ x 5 ½ x 12 ½
$159.00 Q5 Extra Large Vase 9 ½ x 9 ½ x 18 $64.00 Q12 Large Bottle
The defining colors Raku Pottery will always vary. If you would like to see the exact piece being shipped feel free to give us a call and we can send you a text picture of the piece, or a picture of a couple choices.
About Raku Pottery
We have worked with Raku pottery for many years and have continued to enhance the glaze and color process over time creating a beautiful line of pottery. The components of the glaze mixture change from time to time bringing forth different amounts of green and blue coloring and with pieces favoring the popular copper coloring. Each piece is hand thrown, signed and then fired at our ceramic studio in Arizona. Raku has a unique firing process where the pottery is pulled out of a very hot kiln and then placed in a chamber with combustible materials, burning the colors into the vase. We have both a matt and semi gloss finish look to the pottery creating a variety of vibrant color combinations. The Raku pottery is for decorative use only and the coloring will always be unique to each piece. This pottery is an eye catching piece of art that displays well on any surface.
Pottery Information
Raku Pottery can be cleaned with water. Let the moisture in the clay dry thoroughly before placing back on a shelf or table. We service retail stores with this pottery as well as individual customers looking for decorative pottery that is Hand Made in the USA. Candles ship with the glass insert but does not include a candle. We can also accommodate large orders for convention gifts, special occasions, weddings, etc. Please give us a call to discuss the specifics of your request. For website sales we keep an inventory of the Raku pottery in stock and can generally ship within 2 to 5 business days. For retail orders feel free to have your buyer give us a call. 480-983-1948