Canyon Meadows Pottery Functional and Decorative pieces of Hi Fire Stoneware Pottery. Great for Gifts or personal southwest decor. Hand Made in Apache Junction, Arizona
Canyon Meadows Pottery: Click the RED LINK BELOW the Picture in the item descriptions text to order and view a single item.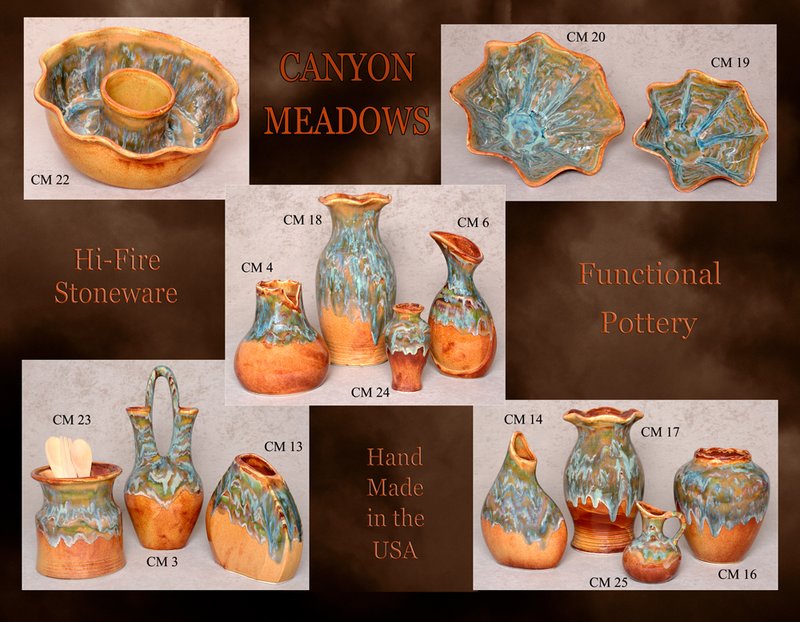 Click the RED LINKS below to order & view single items. Read below for About Canyon Meadows Pottery
Sizes are all rounded to the nearest ½ inch
Price Item Description Size Price Item Description Size
$33.00 CM2 Med Wedding Vase (No Pic) Call to Order $32.00 CM17 Small Vase 5 ½ x 5 ½ x 9 ½
$49.00 CM3 Large Wedding Vase 6 x 6 x 14 $49.00 CM18 Large Vase 6 ½ x 6 ½ x 11 ½
$32.00 CM4 Ridge Jug 6 x 6 x 7 $32.00 CM19 Small Bowl 10 x 9 x 4 ½
$32.00 CM6 Handless Pitcher 5 x 3 ½ x 10 $49.00 CM20 Large Bowl 13 ½ x 13 x 7 ½
$32.00 CM13 Slant Vase 7 ½ x 3 x 8 ½ $43.00 CM21 Small Chip-n-Dip Call to Order
$32.00 CM14 Surf Vase 5 ½ x 3 ½ x 9 $54.00 CM22 Large Chip-n-Dip 12 ½ x 12 ½ x 4
$32.00 CM16 Ridge Vase 5 ½ x 5 ½ x 7 ½ $30.00 CM23 Utensil Holder 6 x 6 ½ x 7
$21.00 CM24 Bud Vase 3 x 3 x 6 $17.00 Spoon Rest (No Pic) Call to Order
$21.00 CM25 Small Pitcher 4 x 3 ½ x 5 $140.00 Canister Set of 4 (No Pic) Call to Order
About Canyon Meadows Pottery
This Pottery is made of Hi-Fire Stoneware, it is durable, vibrant, colorful and is functional or decorative. Our goal in designing this pottery was to focus on the popular southwest decor colors, and southwest desert canyons. These colors contain a lot of brown variations, everything from rust, to brown, tan, all the way to yellow with just a touch of green. We wanted to encompass and blend these colors to create a pottery line that will match southwest decor and go well in any general environment. From this idea we created Canyon Meadows which has a rustic base, with non-specific, but well blended, vibrant, eye catching, coloring. This Pottery goes well with and displays beautifully on a wood surface. Placed on a white or light surface the colors blend and contrast for a vibrant colorful look, while on a black surface the colors deepen and stand out from the black. Whether you intend to use or display this pottery it adds color and elegance to any room. Cleans easily with water and soap if needed. Since we make this pottery by hand and also hand apply the glazes each piece may vary a little from what is pictured and be unique within itself.
Our Hi-Fire Stoneware Pottery

All of our stoneware pottery is hand made by us at our ceramic studio in Arizona USA. We use three different glaze color combinations Rustic Flame, Stormy Skies, and Canyon Meadows. We make all of the different shapes in all three colors. Sharon is our designer and creator of all three Hi-fire stoneware pottery lines. Each piece is signed with her initials on the bottom. Sharon spent several years in college studying ceramics and has taken many specialty classes. The process of creating a new pottery line and/or color combinations can take several months. Once she has the colors coming out as she likes, then it is perfecting the glaze application to get the exact look she is going for. She has worked with ceramics in our studio since 2004 utilizing her artistic and creative personality to make quality, unique, pieces of art. Our family works together with the production of the hi-fire stoneware pottery servicing many retail stores with pottery as well as individual customers looking for a decorative and/or functional Hand Made in the USA piece of art. We can also accommodate large orders of a specific piece for special occasions, weddings, conventions, etc. Please give us a call 480-983-1948 to discuss the specifics of your request. Feel free to have your buyer give us a call for retail store orders as well. For website sales we have an inventory of each item in stock and can generally ship within 2 to 5 business days.