Geckos and Kokopelli hand made ceramic pottery from Apache Junction, Arizona. Colorful & Fun Gifts, or for personal southwest decor.
Gecko's & Kokopelli: Click the RED LINK BELOW the Picture in the item descriptions text to order and view a single item.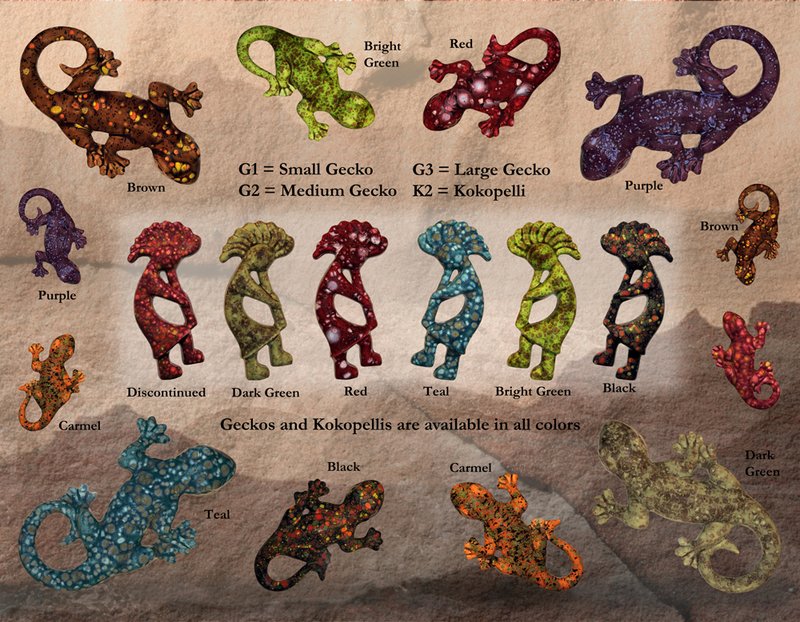 Click the RED LINKS below to order and view single items. Read farther below for About Geckos & Kokos
Price Item Description Size Price Item Description Size
$11.00 G1 Small Gecko 5 x 3 x ½ $27.00 G3 Large Gecko 13 ½ x 8 ½ x 1 ½
$19.00 G2 Medium Gecko 10 x 6 ½ x 1 ½ $19.00 K2 Kokopelli 10 x 5 x 1
There are 9 different colors to choose from. Make your Gecko and Kokopelli color choice after clicking the red item link. (A medium to dark blue color with white accents is not pictured)
About Geckos
We make and hand paint these cute critters out of ceramic at our studio in Arizona. Their unique personality and vibrant coloring attracts a lot of attention, which makes them very popular. The geckos are great for displaying outside a home, on a table, and are able to hang in many different directions on a wall. The location and amount of accents in the coloring will always vary a little.
About Kokopelli
The Kokopelli has reference to some Native American cultures in the southwestern United States. It is symbolized as a humpback flute player. These can also be shipped as a set (one faces left and the other one faces right) so they are looking at each other. If you order two Kokopelli in the same color we will automatically ship you a set. We make and hand paint these at our ceramic studio in Arizona. The location and amount of accents in the coloring will always vary a little. They are great for placing on a table or hanging on a wall, inside or outside your home.
Our Pottery
Our family works together with the production of the Geckos & Kokopelli servicing many retail stores as well as individual customers looking for a decorative Hand Made in the USA piece of art. These clean with water, and soap can be used if needed. We can also accommodate large orders for special occasions, weddings, conventions, etc. Please give us a call 480-983-1948 to discuss the specifics of your request. Feel free to have your buyer give us a call for retail store orders as well. For website sales we keep an inventory of each item in stock and can generally ship within 2 to 5 business days.